Updated 2016: Please visit collieryan.homestead.com and yogarecords.com for more up to date information.
The Hour Is Now, a compilation of some of the best tracks from Collie's three albums, is now available by mail order or at finer record stores everywhere. We did 1,000 copies directly from the master tapes with no digital step. Collie painted this magnificent new cover and Stoughton Press did the heavy duty "laserdisc" style covers. If you would like to order a copy, or get your local store to stock this album, please drop us a line via the Collie Ryan myspace page.
Also, I'm sorry to say that Indian Harvest is now sold out. We still have copies of The Giving Tree and Takin' Your Turn Round the Corner of Day for sale. They are now $75 for individual copies, and these prices will continue to go up as supplies dwindle. Although these are flat, well-stored stock copies, the pressing was not perfect so please expect a little unavoidable surface noise. Money orders should be made out to Collie Ryan (preferred), or you can paypal to me at my email address (paypal charges will apply). Please for more details.
Collie Ryan is a student of Theosophy who privately pressed three records in 1973. This project was funded by her friends at New Age Farms carrot and fresh juice company in Lompoc, California, and the records were distributed at shows at the Sun and Earth Health Food Store and Restaurant in Santa Barbara. The songs are primarily about the theosophist concepts of karma and reincarnation; they are lovely and subtle enough that most listeners rarely detect any sort of underlying meaning without having it pointed out first. Theosophy is more a philosophy than a religion, and you can find out more about it here.
Colllie Ryan's music is deceptively simple -- using nothing more than her high, birdlike voice and excellent acoustic guitar and occasional reverb & natural sound effects, she creates a tremendous, mystical atmosphere evoking the gypsy lifestyle. She completely dropped off the grid shortly after these records were made and today lives with nature and works as an artist, working mostly with hubcaps. Here is a hubcap she did for me. It's based on her first album cover, The Giving Tree: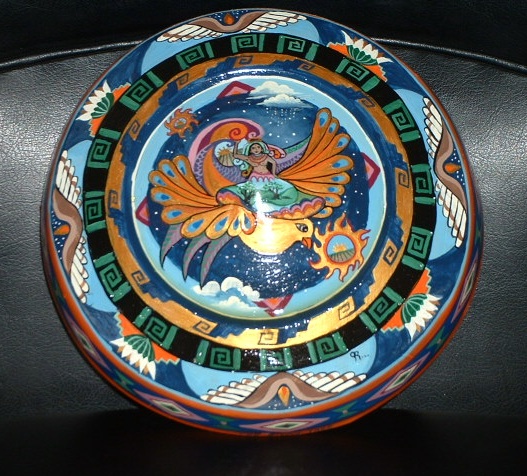 Collie also recorded a CD in 2001 called Letters From Home, which you can order by writing an email to her friend Bob Smith. One of her songs from Indian Harvest, 'Cricket,' was featured on the excellent Wayfaring Strangers: Ladies From The Canyon female folk compilation from the Numero Group. If you run a record label and are interested in reissuing Ms. Ryan's music, you should get in touch. She has recorded hundreds of songs and the little I've heard is just great.
Samples:
'We're Gettin' By' from The Giving Tree
'Prairie Day Lady' from Indian Harvest
'Starbright (Song of Silence)' from Takin' Your Turn 'Round the Corner of Day