"My music and poetry is an attempt to move you into the depths of your heart... beyond the thinking mind... deep into the flow of Love that is the Godstuff of which you are made... and when that happens, you will never be the same."
-- Marr'Del, from
the liner notes
This is it -- the notoriously unknown 1979 Ohio folk-psych classic The Mystery of Love by Marr'Del. Each side features three tracks that are slow, quiet, dreamy and sparse; 'Psalm to the Sun' and 'Lavender Thunder' with guitar, the other four dialogues or monologues with autoharp accompaniment. Atmospheric nature recordings pepper the album, but every other sound comes from Marr'Del herself. (As she wrote to me, "I had no musical training, was completely self-taught on the guitars and harp, and I just let it happen. I guess that's good we don't know the complexities of some of the things we accomplish, or we would never undertake the project/situation.") This is an incredibly brave and moving record that will enchant some and embarrass others in its spiritual intensity.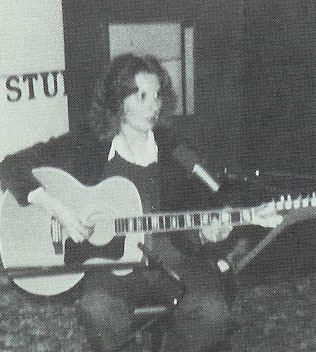 Today Marr'Del is a grandmother and indulger of pets. The Mystery of Love is her only record. She has been in poor health as of late I hope anyone who has enjoyed her music will take a moment to let her know. .
You can an original copy for $15 ppd in North America, $20 the rest of the world, or download the album in its entirety below.
The Mystery of Love
MSP-3001, 1979
1. Maria (12:18)
2. Butterfly Friend (4:54)
3. Psalm To The Sun (6:46)
4. Celestial Cathedral (7:43)
5. Lavender Thunder (4:29)
6. I Want To Be A Wave (4:18)
all songs written, performed and produced by Marr'Del;
production engineering by Denver Short.
"In moments when my desire to know God was so intense that I would willingly have shed this mortal body had that been the path to union with the Divine... in those moments driven by desire I have found God in my music... sometimes in two simple chords on my harp or guitar have I heard angel voices in the exquisite overtones and harmonies suspended in the air yet vibrating within me. And they expressed in definite terms what God is... terms too definite for ambiguous words. That is the nature of my music... that is the source of my poetry. It is all healing."
-- Marr'Del, from
the liner notes

"Deep LP this, very deep, please do not spread to ordinary Joe / Riff Raff / Herr Hen / Monsieur idiotica and sadly detached etc." -- Magnus from Bellybongo